Glamorgan farmers make welcome return after Christmas break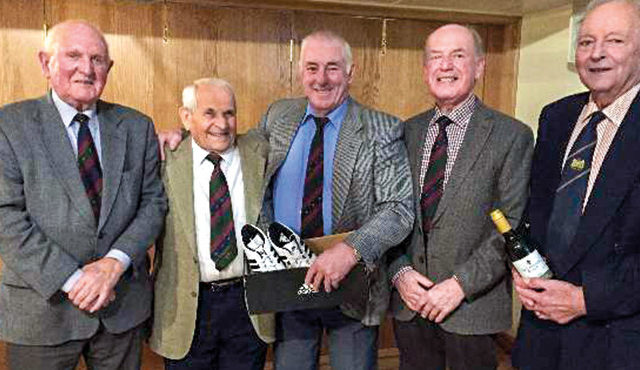 AFTER AN EIGHT-week break from walking the fairways due to Christmas, members of the Glamorgan Farmers' Golf Society were relieved to get back into action recently for the delayed January meeting at Coed Y Mwstwr Golf Club.
Competing for the Llanharan Concrete Company-sponsored prizes, the golf course was in remarkably good condition for the time of year and together with the excellent hospitality and friendliness of the staff at Coed Y Mwstwr, all 26 participants had a really enjoyable day's entertainment.
Playing for the Llanharan Concrete Company Rose Bowl and one of the many quality prizes supplied by the sponsor proved a real incentive, with three members all finishing with identical scores of 32 stableford points.
With scores over the back nine being the deciding factor, the 17 points accumulated by Colwinston entrepreneur Clive Edwards proved decisive.
Runner-up with 15 points on the back nine was Glyn Watts-Jones followed by Bryan Owen who could only accumulate 14 points on the back nine.
Yet another Colwinston resident, Charles Vicary, won the visitors' section with 28 points, just seeing off the challenge of the Cowbridge RFC touch judge Rob Price who scored 27 points.
Nearest the pin on the Watts & Morgan sponsored par-3 holes were David Williams, Geraint Davies and the oldest competitor on the day, John Davies.
Davies was also successful in correctly guessing just 16 balls would fail to return home to collect the Picketston Poultry-sponsored prize which raised £75 for the Noah's Ark Children's charity.
Clive Edwards completed a fine day by collecting the Llanerch Vineyard & Restaurant sponsored prize when hitting the longest drive down the 16th fairway.
The society was delighted to welcome to the evening's presentation ceremony Mr Gino Cocco of Llanharan Concrete Ltd to present the prizes.
Cocco, who will be 91 next month, was captain of the society in 2010 and was someone whose presence was always appreciated.
In Other News...